Test scores announcement for fall 2022
Thank you for all your support in helping your students and their families this past school year. Arizona State University is gearing up for the fall 2021 semester and the next cycle of seniors to start their college search process; we're here to help set your students up for success, so they'll be ready to apply for fall 2022 admission. We want to take a moment to share some exciting updates with you.
For the fall 2022 semester, ACT and SAT scores are not required for admission or merit scholarships. ASU will continue awarding our New American University merit scholarships based on core competencies and unweighted GPA at the time of admission. We encourage students and families to use our Scholarship Estimator to learn more about what a student may be eligible for. Please encourage your students to submit their applications when the application opens in early July so they can be evaluated for merit scholarships when we begin awarding in October. We strongly encourage students to apply well in advance of our Nov. 1 priority date.

Learn about the difference between self-reporting or submitting a transcript.

Choose to not self-report → quicker application process, but takes a little longer for an admission decision.

 

Choose to self-report → application takes longer to complete, but the admission decision comes much faster.

 
Here are five tips for your students to get ahead: 
Tip #1: Apply early.
When our application opens in early July, your students can apply to ASU through ASU's application for admission, the Common Application or the Coalition Application. It takes less than 20 minutes to apply, and they need to submit only one application for ASU to consider them for admission. ASU's priority admission deadline is Nov. 1. 
Tip #2: Learn about fee waivers.
The application fee waiver process is embedded within our applications. No special code or additional paperwork is needed from you, as your students will select the option that best fits their circumstances to determine if they are eligible for an application fee waiver.
Tip #3: Create their FSA ID.
The Free Application for Federal Student Aid for the 2022–2023 academic year will open Oct. 1, but your students can set up their FSA ID now to get ready to file the FAFSA. They'll need to create an FSA ID at studentaid.ed.gov to electronically sign and submit their FAFSA. If they are a dependent, their parents will also need to create an FSA ID. 
Tip #4: Schedule a live-hosted virtual or in-person visit.
Students will learn more about ASU's admission and enrollment processes, and explore each of our campuses through live-hosted virtual visit experiences, in-person walking tours and on-demand virtual tours. We will be hosting a month-long series of virtual programs in July, More to Explore, centered around career and major interests. Stay tuned for more information about this exciting program for students, families and partners like you!
Tip #5: Schedule a one-on-one admission appointment.
Your students can set up a virtual personalized appointment with their admission team member. They are ready to help them through their next steps with the enrollment and financial aid processes.
As you begin to plan for the upcoming school year, we would love to connect with you on how we can visit your school and support you and your students. We've learned so much over the past year and a half, from new types of programming we can use and making innovations to traditional experiences to delivering programming that meets the needs of you, your school and district. 
Thank you for all that you've done, and take the time this summer to relax and take care of yourself. Please let us know if you have any questions or how we can support you and your students.
Sincerely,

NaTasha Henry
Senior Associate Director of School Relations
Admission Services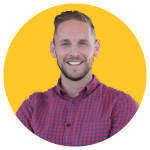 Brad Baertsch
Senior Director, First-Year Domestic and International Recruitment
Admission Services