Cost of college and financial aid for a first-year resident student
First-year resident tuition cost
College is an investment that pays off after graduation. And ASU helps make that investment affordable through a reasonable tuition rate, financial aid opportunities and other scholarships to lower your overall college costs.
Resident tuition and fees
Average net tuition residents pay after gift aid, work-study and on-campus employment. (2021-2022)
ASU student retention rate
(fall 2020)
Tuition-free programs for Arizona residents
College Attainment Grant
covers tuition and fees
must be Pell-eligible
valued at $12,698 per year
President Barack Obama Scholar Program
covers tuition and fees
must be Pell-eligible
eligible students may also receive funding for housing, meals, books and supplies, valued at $28,738 per year
Arizona Promise Program
Covers remaining tuition and fees after other gift and merit aid has been applied.
Must be Pell-eligible.
Learn more about the Arizona Promise Program. 
New American University President's Award
covers tuition
SAT 1390 | ACT 28 | Core GPA 3.90
valued at $8,000 per year
2022–2023 expenses for an Arizona resident first-year student
As a first-year student, you'll pay ASU for tuition and fees, on-campus housing and meals. Books and supplies, transportation, and personal expenses will vary depending on your spending choices and should be budgeted into your college expenses.
Tuition varies based on program and location. View your actual undergraduate college fee by plugging your program of study into ASU's Tuition Estimator.

To get an estimate of what your out-of-pocket costs might look like after financial aid, check out ASU's Net Price Calculator.
How is an Arizona resident defined? 
For tuition purposes, a person must be able to prove continuous physical presence in Arizona for at least 12 months immediately preceding the semester they apply to ASU. This presence must be coupled with clear and convincing evidence of intent to establish a domicile in Arizona beyond being a student. Please note that with the passage of Arizona Prop. 308, some students who qualify as noncitizens may now be eligible for an in-state tuition rate.
| | |
| --- | --- |
| Base tuition | $10,978 |
| Undergraduate College Fee* | $1,080 |
| Student initiated fees | $640 |
| On-campus housing and meals | $14,718 |
| Books and supplies | $1,320 |
| Transportation | $1,386 |
| Personal | $2,013 |
| Total | $32,135 |
*This represents the highest possible undergraduate college fee. Visit ASU's Tuition Estimator for your actual cost.
What students are saying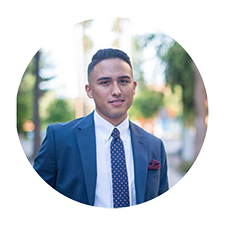 The Obama Scholar program, to me, means opportunity. Opportunity to have a chance at higher education and the ability for a scholar from a low-income family be able to raise the bar in his family for his siblings and younger relatives.

Tristan Ochoa Computer information systems major from Buckeye, Arizona
Applying for scholarships
Applying for financial aid
To receive federal financial aid (grants, loans and work-study) you must submit the Free Application for Federal Student Aid each year. The FAFSA opens every Oct. 1 and ASU's priority filing date is Jan. 15. Aid is awarded on a first-come, first-served basis, so apply early.
Once you submit your FAFSA, check your Priority Actions in My ASU regularly to be sure that ASU does not need any additional documents from you to verify your FAFSA. All requests will be listed in My ASU or sent to your ASU email.
Getting a job
Working part time on campus is a great way to help pay for college, meet new people and gain experience. Jobs on campus are conveniently located and come with the flexibility necessary to study for exams and get your schoolwork done. Check out the different types of positions available.
`
Financial support programs for Arizona residents
ASU College Attainment Grant Program
The College Attainment Grant is ASU's commitment to high-need Arizona families. Tuition is covered so students can focus on their academics. Consideration date is July 1.
Obama Scholars Program
The President Barack Obama Scholars Program covers tuition and fees, and eligible students may also receive funding for housing, meals, books and supplies. Qualified Arizona residents must be Pell-eligible, demonstrate leadership qualities and meet the required financial need criteria. Consideration date is Jan. 15.
RaiseMe
You can earn scholarships while in high school, as early as 9th grade, for doing all the things that best prepare you to succeed, such as getting good grades, volunteering or joining an extracurricular.
Arizona Foster Youth Award
The Arizona Foster Youth Award helps Arizona foster children earn a college degree by offering them free tuition.
American Indian Student Support Services
ASU's American Indian Student Support Services office is available to assist American Indian students with academics and finances — including scholarship opportunities — throughout their college experience.