First-year student college admission requirements
We're here to help make each step toward becoming a Sun Devil a smooth experience. Follow the steps below to apply to become a first-year student at ASU.
Admission requirements
Course competency requirements
To be admitted to ASU, you need the following coursework:
4 years math
4 years English (non-ESL/ELL courses)
3 years lab sciences (1 year each from biology, chemistry, earth science, integrated sciences or physics)
2 years social sciences (including 1 year American history)
2 years same second language
1 year fine arts or 1 year career and technical education
Aptitude requirements
To be admitted to ASU, you will need one of the following:
top 25% in high school graduating class
3.00 GPA in competency courses (4.00 = "A")
ACT: 22 (24 nonresidents)
SAT: 1120 (1180 nonresidents)
These are the general university admission requirements. Students who do not meet these aptitude requirements may be reviewed individually before a final admission decision is made. Some degree programs have higher aptitude requirements. To find the requirements for your specific program, please visit ASU's Degree Search.
Applicants must successfully complete the ASU competency requirements. Admission may be granted with one deficiency in no more than two competency areas. Deficiencies cannot be in both math and laboratory science. Students must earn a minimum 2.00 in each subject area. Most competencies may also be met by test scores or college courses. See detailed competency requirements for more information.
Important deadlines
To help you stay on track with the admission and financial aid processes, here are the important deadlines you need to know. 
Tips for applying to college
Homeschool or online/virtual high school students
ASU welcomes applications from home-educated students and students who have attended an accredited online/virtual high school. You can easily fill out the application and then include additional information to accurately demonstrate your accomplishments.
How to apply if you completed a high school equivalency diploma
Students may also meet admission requirements by meeting one of the following:
GED* 
Battery average score:
50 or above for tests taken between 1998 and 2001.
500 or above for tests taken between 2002 and 2013.
170 or above for tests taken after 2013.
HiSet* 
Total score of 75.
TASC (Test Assessing Secondary Completion)*
Minimum total score of 2700.
Minimum score of 500 on each of the five content areas.
Score of 2 or above on essay.
California High School Proficiency Examination
The California High School Proficiency Examination and other high school equivalency diplomas are recognized as high school diplomas, but do not satisfy course competency and aptitude requirements needed for admission. Students should submit their diploma to show completion of high school, but will also need to submit additional high school transcripts or SAT or ACT scores to satisfy course competency and aptitude requirements for admission. 
Alternatively, enrollment and successful completion of 24 semester credits with a 2.75 minimum GPA through Earned Admission, or completion of 24 or more college credits from a regionally accredited college or university with a minimum of 2.50 cumulative GPA on a 4.00 scale may be used to satisfy requirements for admission.
College Credit Pathway
Some states, including Arizona, offer a College Credit Pathway as an option for students to obtain a high school equivalency (HSE). If the HSE is obtained, ASU will accept that credential as completion of the high school graduation requirement but the student may still need additional high school coursework and/or SAT/ACT scores to meet course competency requirements and high school aptitude if the student does not have 24 transferable credits taken post high school.
*Some higher requirement programs may require ACT/SAT scores or additional coursework in order to satisfy aptitude and/or course competency requirements.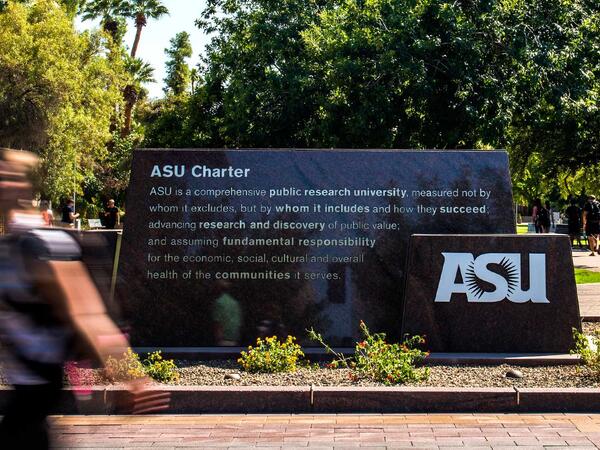 Get a jump-start on your college experience
Now is the perfect time to imagine what your future will look like, and ASU is here to help you get there. See how you can start earning scholarship money, find the perfect degree program and campus, and more — all while you're in high school.
Frequently asked questions about applying to college
When should I apply to college as a first-year student?
The ASU application opens on or around July 1 each year. You are encouraged to apply to ASU as early as possible. Nov. 1 is ASU's priority admission date, and Jan. 15 is ASU's regular admission date. The earlier you apply, the earlier you'll receive an admission decision and the more likely you'll be to secure the most financial aid possible.
Is it OK to submit applications to several different universities?
Yes, you should apply to all the universities you are interested in possibly attending. Just be aware that universities charge application fees, which can add up. Many universities are part of the Common Application, including ASU, which can save you time by using the information you enter once for several applications.
Other than the admission application, what information will I need to provide to complete the application process?
In addition to the application, you will need to submit the nonrefundable application fee, as well as self-report your high school grades or have your high school transcripts sent to ASU. ACT or SAT scores are not required for admission, but may be submitted for ASU course placement or as supplemental information.