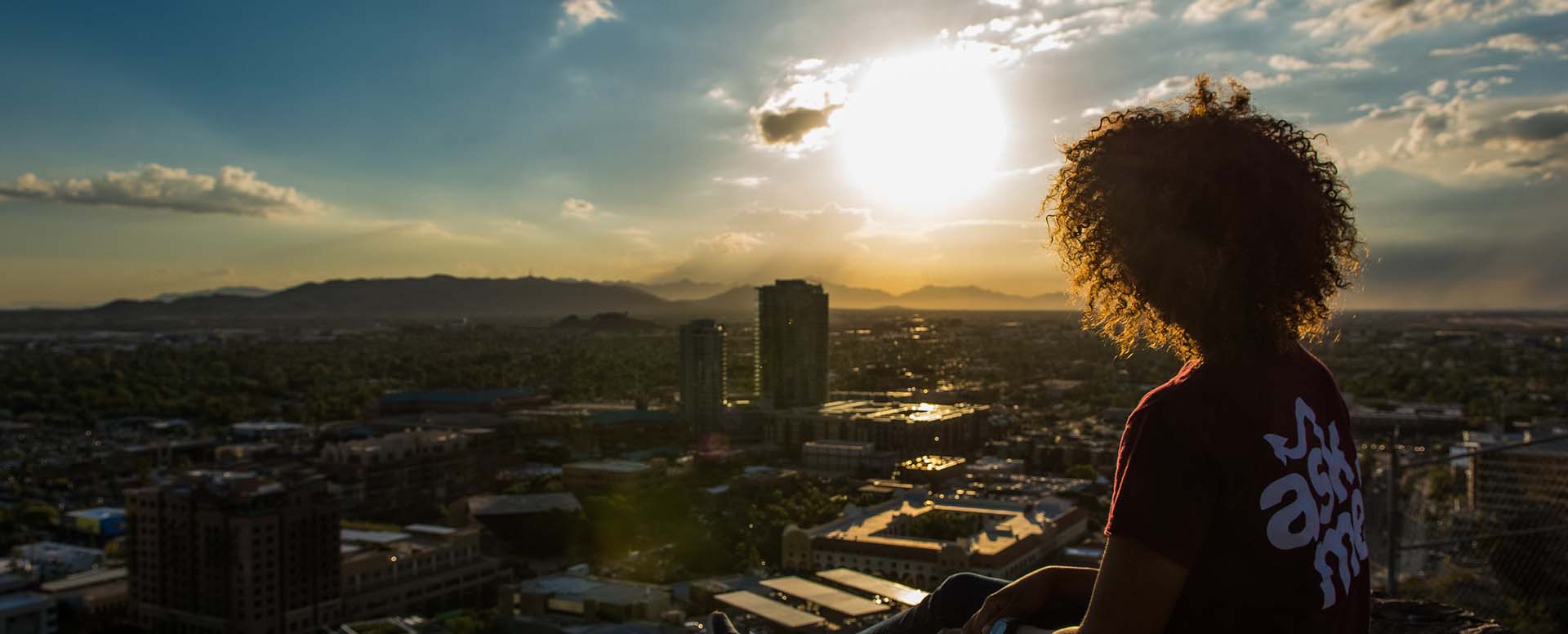 Prepare for college at ASU
Preparing and paying for college
High school feels like it just began and already you might be thinking about your future and planning for college. And whether you're expecting a transformative experience in college or know exactly what you want to do and how to get there, ASU will help you with support and guidance every step of the way.
Planning for college
No need to wait until your first day of classes — you can start now.
College life at ASU
ASU takes a students driven approach to innovation, so regardless of your major, you'll learn how to adapt to the unexpected and come out thriving. Here are just a few groundbreaking ways that innovation will be part of your academic life at ASU.
Advice from ASU students 
Looking back to help you get ahead. We asked current ASU students, "If you could go back in time, what advice would you give to your high school self?"
Admission links and resources
Frequently asked questions about becoming a first-year student at ASU
How do I decide what schools I might want to attend?
First you should consider a school's location. Do you want to go to college nearby or out of state? You should then find out if a school you are interested in offers the degree program you want to study. Also consider what type of financial aid you might expect to receive. Finally, take a tour of the campus to help you decide if the school is a good fit for you.
What questions will the admission application ask?
The ASU admission application asks various questions including your contact information and the major and campus you would like to attend. It also asks you if you will self-report your high school grades. Self-reporting is recommended because it will greatly speed up the time it takes to receive an admission decision. If you are unable or choose not to self-report your grades, you can have your school submit your official transcripts to ASU.
How do I pick a major?
If you know what you want to study, visit ASU's degree page to see if it's offered. If you are still figuring out what you want to major in, that's normal too. Try one of ASU's exploratory programs, which enable you to explore different academic areas without losing any time or credit toward your degree. You can also take ASU's major and career quiz, me3®, which can help you narrow down the right major for you. Additionally, try talking to your academic advisor for guidance. And know that you're not alone — 80 percent of students switch majors at least once.
How important are grades in admission?
ASU has several aptitude requirements for admission, and one requirement that may be considered is your grades. Additionally, some programs require even higher grades than the university does, so meeting grade requirements is an important factor in being admitted. And if you're interested in applying to Barrett, The Honors College, good grades are important. Though Barrett doesn't require a minimum GPA, it does take your grades into account and views them as a major factor in deciding on honors college admission.
How many colleges should I apply to?
There is no specific number of colleges you should apply to. It varies by student. But you should consider applying to more than one college. Even if you know exactly which college you want to attend, applying to two or more will give you options if you don't get admitted to your dream college. But keep in mind, the number of colleges you apply to could be limited by cost as most colleges require an application fee.
When should I take the SAT or ACT?
Most students take the ACT or SAT in the spring of their junior year, summer after their junior year or fall of their senior year. You should also consider taking the PSAT in October of your junior year to be considered for National Merit and National Hispanic Recognition Scholarship programs.