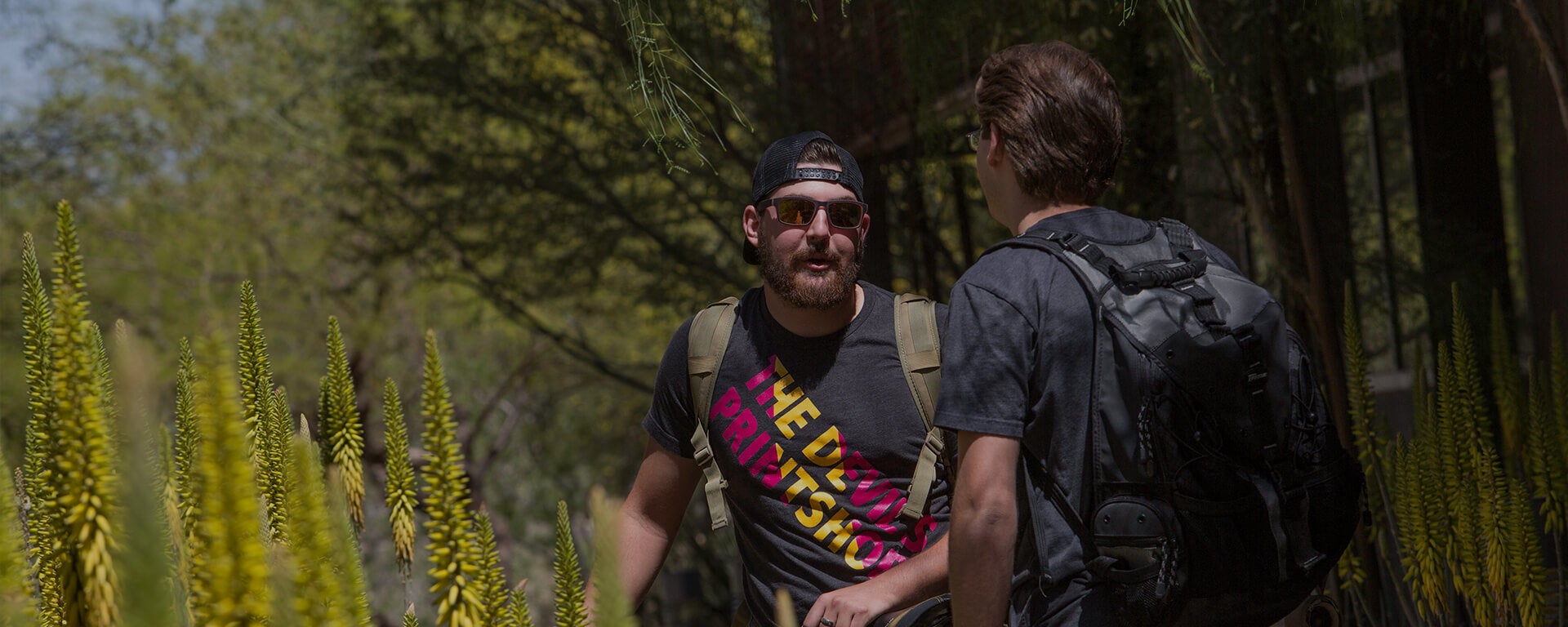 Transfer student admission
How to complete the undergrad application as a transfer student
In the transfer admission video series below, learn how to apply to Arizona State University using the undergrad admission application. An ASU admission counselor guides you through each section of the application, answering frequently asked questions along the way.
Your info
The first step in completing the ASU undergraduate application is the My Information section. We walk you through each of these fields and address questions you might have about this section of the application.
Academic history
The second section of the application focuses on your prior academic history, including high school and any colleges or universities you previously attended. Watch as we guide you through these scenarios and explain how to fill out each part based on your situation.
Grades
All students have the option to self-report high school grades in the My Grades section of the application, though self-reporting is not required. In this video, we walk you through this process and explain what courses you should include, how to add these courses to your application and more.
Residency
The information you share in the residency portion of the undergraduate application helps the admission office determine if you are an in-state, out-of-state or international student. In this video, we cover these terms in detail and explain how to accurately fill out this part of your application.
Choose a major
One of the final sections of the undergraduate application is the Choose Major section. If you're unsure about what major is best for you, we offer resources that might help you decide. Of course, you can always change your major later.
Submit
Now all that's left is to review your application, submit it and pay the application fee. In this video, we review how to pay the application fee and what the next steps are now that you've submitted your application to ASU.
The ASU transfer student admission process
Follow these steps to apply to Arizona State University as a transfer student.
Activate My ASU and your ASURITE UserID
You will receive your ASURITE UserID and activation code via email within one to three business days of submitting your application. If you have previously applied to ASU, your ASURITE UserID will remain the same. You'll use your ASURITE UserID to login to My ASU.
Submit the nonrefundable transfer application fee
Arizona residents: $50
Domestic nonresidents: $80
ASU Online: $70
International nonresidents: $85
You can pay for the ASU application fee using a credit card (Visa or MasterCard) or eCheck at the time you submit your transfer application or when you log in to My ASU. Or you can mail a check or money order to Admission Services (payable to Arizona State University) at the address below.
Admission Services Applicant Processing
Arizona State University
PO Box 871004
Tempe, AZ 85287-1004
If you applied for admission through the Common Application, pay the application fee through that application.
Request to have your official transcripts sent to ASU
College or university transcripts
ASU requires official transcripts from all previous institutions attended in order to process your application. Please contact the registrar's office at your college or university and request your official transcripts be sent directly to Admission Services. Official transcripts delivered by hand will be accepted only if they are sealed in the original envelope provided by the community college or university and bear the university seal and the signature of the registrar of the issuing institution.
If your college or university uses Parchment, eSCRIP or National Clearinghouse to send electronic transcripts, please request that your institution sends us your official transcripts by choosing Arizona State University on the request form.
Upon graduation or completion of your final semester at your current school, request a final transcript be sent directly to ASU Admission Services to determine final admission status. Receipt of your final transcript impacts financial aid disbursement and your eligibility to register for classes. (Note: ASU does not accept faxed college transcripts.)
Find out more about transferring credits to ASU.
High school transcripts
If you haven't completed an associate degree or higher from a regionally accredited university or college you must submit one of the following:
Official high school transcript with a graduation date
Official GED/HiSet transcripts
Affidavit of Completion of Secondary School Education
ASU accepts hand-delivered official high school transcripts in sealed envelopes from applicants. (ASU does not accept faxed high-school transcripts.)
NOTE: Transfer applicants with 24 or more transferable semester credit hours from a regionally accredited college or university, including previously completed ASU credits, and who will be 22 or older by the start of the requested semester of admission, will not be required to submit a high school transcript for admission. Once all prior college or university transcripts and outstanding admission items are received and verified, the high school transcript requirement will be waived. Transfer applicants are required to have graduated from an approved high school (or equivalent) prior to the semester of requested admission at ASU, and to include this information on the application for admission.
Test scores
If applicable, have your ACT or SAT scores sent directly to ASU. If you have taken AP, IB or CLEP exams, request your scores be sent directly to ASU.
Have your test scores (e.g., ACT, SAT, TOEFL) and official high school or college transcripts sent from the issuing institution to the address below.
Admission Services Applicant Processing
Arizona State University
PO Box 871004
Tempe, AZ 85287-1004
Second bachelor degree students
Students seeking a second baccalaureate degree must meet admission criteria for that degree. High school transcripts are not required unless you have selected a higher requirement degree program that requires it. If admitted, a minimum of 30 credit hours in resident credit courses at ASU must be successfully completed to earn the second baccalaureate degree and all degree and university requirements of the second degree must be met. After admission, your academic advisor in your college will help you determine if there are enough courses to meet this criteria for your chosen program. For more information on additional degrees please visit https://catalog.asu.edu/ug_grad_req.
Are you an international transfer student? International transfer student information
Transfer and second bachelor student admission requirements
A transfer applicant is a student who has attended one or more colleges or universities and has completed 12 or more transferable credits post-high school. Students with 11 or fewer transferable credits are considered incoming freshmen.
Competency requirement
You must have completed one of the following:
graduated from high school
earned a GED

Aptitude requirement
You must meet one of the following:
Transfer students with 12–23 transferable credits must also have a minimum 2.50 cumulative transfer GPA and meet first-year student admission requirements.
Transfer students with 24 or more transferable credits must have a minimum 2.50 cumulative transfer GPA.
Transfer students who have earned an associate degree or higher from a regionally accredited higher education institution must have a minimum 2.00 cumulative GPA (for Arizona residents) or 2.50 cumulative GPA (for nonresidents).
---
Some majors have higher admission requirements. To find the requirements for your specific program, please visit ASU's Degree Search.
"A" = 4.00; ASU accepts college-level courses in which you have earned a "C-" or better.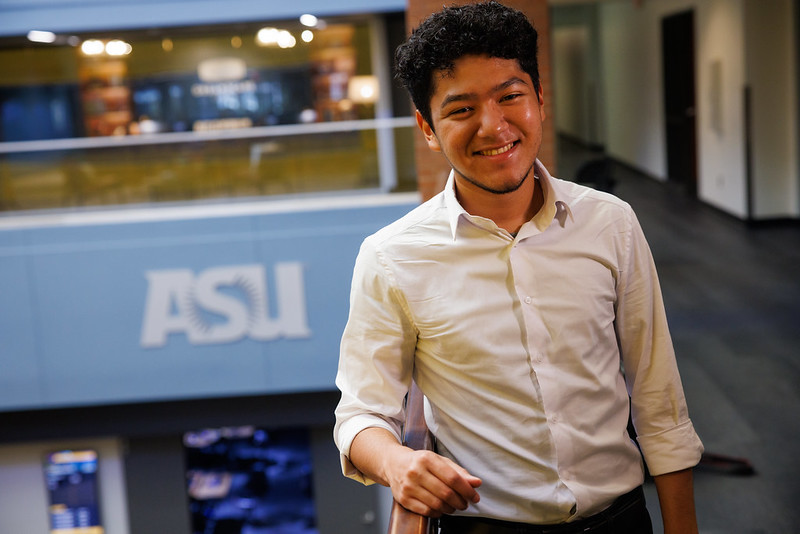 Schedule a transfer appointment
Make a half-hour appointment with an ASU transfer specialist or college representative to learn more about studying at ASU and get all your questions answered.
Important transfer deadlines
Fall 2023:*
Oct. 1, 2022
2023-2024 FAFSA opens 
Jan. 15, 2023
FAFSA priority date 
Feb. 1, 2023
Priority admission deadline 
Late Feb. 2023
Class registration begins 
Aug. 17, 2023
Classes begin
Spring 2024:
Oct. 1, 2023
FAFSA priority filling date 
Oct. 1, 2023
Priority admission deadline
Late Oct. 2023
Class registration begins 
Dec. 2023
Submit your final transcripts 
Jan. 8, 2024
Classes begin
*Students must submit their FAFSA and application materials by Jan. 15 to be considered for ASU merit and need-based awards. Late applicants will be considered for university admission, but ASU undergraduate degree programs with higher transfer admission standards will give priority consideration to applications submitted by Feb. 1. You can find other important dates on ASU's academic calendar.
Frequently asked questions about transferring to ASU
What are ASU transfer requirements?
To apply to ASU as a transfer student, you must have earned either a high school diploma or a GED. Additionally, you must have transferable college credits or an associate degree and meet GPA requirements.
When should I apply to ASU? What are the application deadlines?
ASU uses a rolling admission process that allows for a flexible time frame. ASU typically recommends that students start their steps to apply at least one semester prior to their starting term at ASU. It may take approximately two to six weeks to receive an admission decision once all requested materials are received. Although there are no "hard" deadlines to apply to ASU, there are a few priority dates to keep in mind if you'd like to maximize your opportunities for financial aid. You can review these dates, as well as admission requirements and steps to apply, at admission.asu.edu/transfer/apply.
How do I apply for transfer admission to ASU?
If you meet university admission requirements, you can apply for transfer admission by completing the undergraduate student application, paying the application fee, and having your official transcripts and test scores to ASU.