Admitted student next steps
Transfer students
Welcome to Arizona State University.
You're now on your way to becoming part of the most innovative and forward-thinking university in the nation. And by choosing ASU, you will become a part of a community of master learners and doers who will support you during your journey at ASU.
We've gathered your next steps to help you prepare for your transition to ASU — plus we've added some extras for you to enjoy. You'll be getting a lot of information about ASU in the coming months. This guide highlights the most important things to know so you'll be prepared for your new Sun Devil status.
Your next steps as an admitted transfer student
Activate your ASURITE User ID 
Your ASURITE User ID grants you access to My ASU and university services. See your admission letter for details if you haven't activated your ASURITE User ID yet. 
When you activate your ASURITE User ID, you will select to have your ASU email forwarded to a personal account. It's important to check your email often for time-sensitive notifications and next steps about enrollment. You'll have access to your official ASU email when classes begin. You can check which email your ASU email is forwarding to by looking in the profile tab in My ASU.
If you previously applied to ASU, use your existing ASURITE User ID to activate and log in to My ASU and your ASU email.
Need help? You can find your activation code in an email from computer.accounts@asu.edu with the subject line "ASU Account Activation." If you need assistance, call 1-855-278-5080 or 480-965-6500. 
---
Review your transfer credits

To review your transfer credits, visit the ASU Transfer Guide, log in with your ASURITE User ID and password, and click on My Transfer Guide. For questions about applying your transfer credits to your degree program, please connect with your academic advisor using the Academic Support Team box in My ASU.
---
Pay your enrollment deposit


 
Confirm your place in ASU's incoming class by submitting your enrollment deposit via My ASU. Then, be sure to check My ASU often for any Priority Tasks needed to complete your steps to enroll.
---
Start the New Transfer Student Orientation Experience
In the New Transfer Student Orientation, you will prepare to take classes by completing essential next steps for enrollment. To access it, log into My ASU to view details under Priority Tasks, or check out the New Transfer Student Orientation Experience website. 
---
Register for classes
You must meet with an academic advisor before you can register for classes. You can find your advisor's contact information in My ASU under the Academic Support Team box. You may want to review the Transfer Guide to view course equivalencies before meeting with your academic advisor.
---
Submit your FAFSA
The 2023-2024 Free Application for Federal Student Aid (FAFSA) is available now. The 2024-2025 FAFSA will become available in December 2023. Submit your completed FAFSA as soon as possible. ASU's Federal School Code is 001081.
Spring 2024: Complete the 2023-2024 FAFSA
Fall 2024: Complete the 2024-2025 FAFSA
---
Apply for scholarships
Transfer scholarships are available to help pay for tuition, housing, books and other costs when you transfer to ASU.
---
Submit your MMR immunization verification form
You must submit your measles (rubeola), mumps and rubella immunization form before classes begin. You can fax, email or mail your records to ASU Health Services.
---
Explore housing options
There are limited on-campus options for transfer students; however, we strongly encourage you to take advantage of off-campus housing options surrounding each ASU campus. We understand that you may not be familiar with all of the housing options in the Phoenix metropolitan area, so we have developed the Off-Campus Housing Marketplace to help you search for the apartment or house that works for you.
---
Request final transcripts
As soon as you graduate or complete your current semester or term, request an official final transcript be sent from your college or university to ASU's Admission Services.
---
Review parking and transportation
Cars are not the only way to get to ASU. The bus and light rail are affordable options too, and students walk, bike or skateboard on campus.
---
Visit campus
If you haven't toured campus already, visiting is the best way to get an idea of what life is like as a Sun Devil. Schedule a walking tour with a campus tour guide at all of ASU's campuses. If you can't make it in person, take a virtual tour — or if you'd rather explore campus on your own, take a self-guided audio tour to hear about every major campus attraction.
---
Attend welcome events
Get to know your campus and meet other transfer students at ASU's free welcome events. Explore the event schedule to discover which ones to attend.
The downloads below include the transfer students "Next steps" brochure and a guide to My ASU.
Spring 2024 transfer student next steps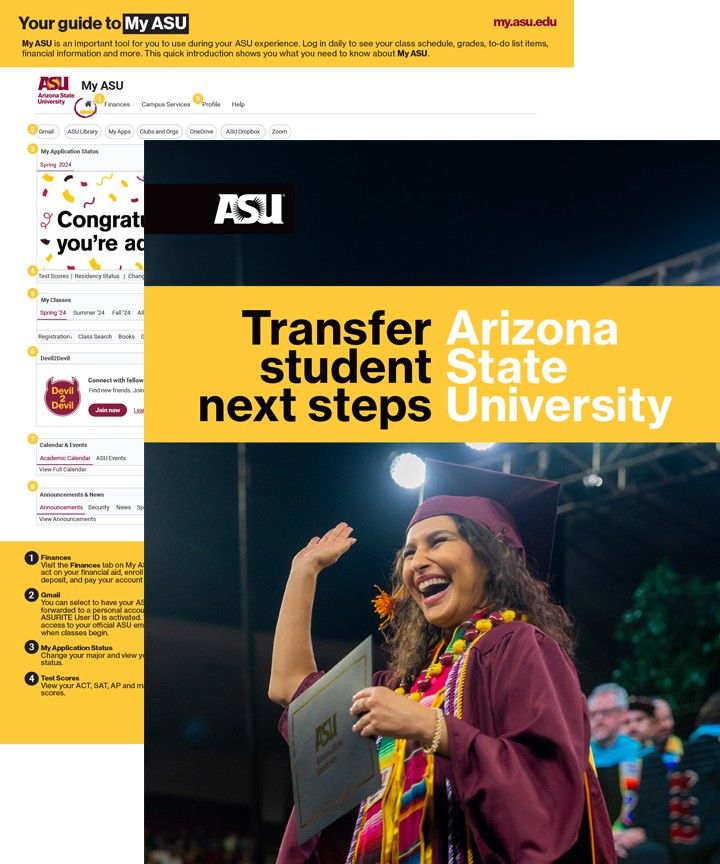 Fall 2024 transfer student next steps