Military and veterans at ASU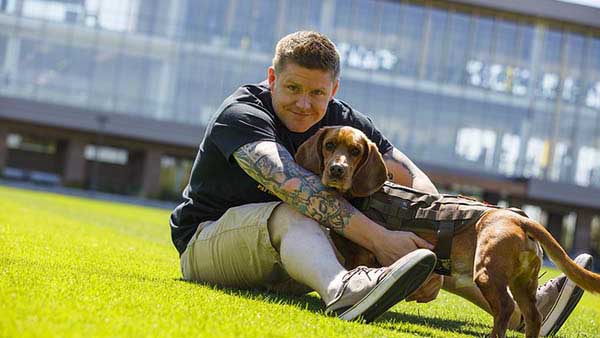 Dear veterans,
Arizona State University is proud to celebrate our veteran population on this important day. In recognition of all those who serve, we share a small token of appreciation. On behalf of ASU's Office of Admission Services and the Pat Tillman Veterans Center, thank you for your commitment, your bravery and your service. ASU honors the brave and selfless individuals who serve and have served in the military, their families, and those who serve their communities through public service.
Thank you!
Why so many veteran and military students choose ASU
ASU and the Pat Tillman Veterans Center welcome you to your next adventure — accomplishing your education and career goals. Student veterans and active duty service members are a valuable part of the ASU community and our academic environment. Whether you're planning to earn your degree online or on campus, you can:
continue serving as a leader by getting involved
take advantage of job and career opportunities
attend virtual or in-person career fairs
earn your service honor stole to wear at graduation
You've already proven you can succeed in one world-class organization. We believe in you and know you can succeed here as well. ASU's Pat Tillman Veterans Center team is here to help you every step of the way. It's why ASU is consistently included among the best schools for veterans and military students.
LIA 294: Student Success for Veterans
Have you registered for ASU's veteran-specific introductory course? Designed for the student veteran, LIA 294: Student Success for Veterans provides you with support systems, academic resources and transitional aid. Meet other student veterans and learn about how ASU, the state of Arizona, and the VA can assist you throughout your college experience. There are only 19 seats per class on each campus, so secure your spot today.
Read more
"If you are a veteran in need of an orientation class, then you have no business taking the regular ASU orientation course. Do yourself a favor and take LIA 294; it will put you at a running start for successful and expedient graduation."
Kenny Chiaghana, Marine Corps, philosophy major
Transcripts
Undergraduate applicants:
Admission Services
Arizona State University
PO Box 871004
Tempe, AZ 85287-1004
Graduate applicants:
Graduate Admission Services
Arizona State University
PO Box 871004
Tempe, AZ 85287-1004
Military transcripts
ASU accepts the following military transcripts:
CCAF Transcript (Community College of the Air Force Transcript)
JST (Joint Services Transcript)
The CCAF is a regionally accredited community college. If you received credit for courses taken through the CCAF while serving in the Air Force, submit this transcript as part of your undergraduate application. The JST will be reviewed for possible transfer credit but is not evaluated for admission. Submit your JST as early as possible for timely evaluation, but it will not delay your admission decision.
ASU is measured not by whom it excludes, but by whom it includes and how they succeed.
- Excerpt from ASU's Charter
Pat Tillman's life and legacy live on at ASU
Pat Tillman was an ASU student scholar and star football player who graduated in 3½ years and went on to play professionally with the Arizona Cardinals. In 2002, Pat walked away from a $3.6 million contract with the Cardinals to enlist in the U.S. Army. He died while serving in Afghanistan in 2004.
As a scholar, athlete and soldier, Pat Tillman performed at his best. ASU continues to honor Pat with the annual Pat's Run, the Pat Tillman Veterans Center, Tillman Tunnel and in countless other ways. His passion for life and expectations of excellence reverberate through everything we do.
Frequently asked questions about being a veteran at ASU