Get answers to your questions about going to college
Is your student going to college soon? It's a big step, right? There can be a lot to learn, but no worries. We'll help you sort it all out and get things done on time! We're delighted you're here and happy to help.
College will be a new experience for your student, but they shouldn't feel unprepared. We're sharing how they can take charge of their college adventure.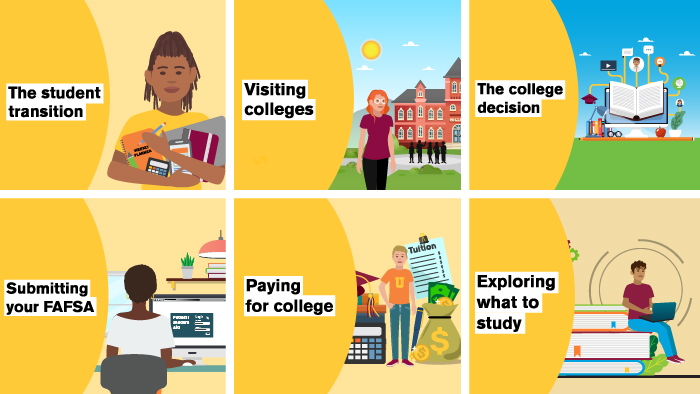 Browse the College Bound video library
Learn all the ins and outs of getting ready for college with these short, informational videos. You'll find clear answers to many of your family's most pressing college questions, and tools and instructions to help your student navigate the complexities of preparing for college.
There are lots of steps when applying to college. And if your student is from a country outside the U.S., they'll have even more. We're here to break the steps down for you.
Your student may have picked a college, been admitted and secured financial aid. But we want to make sure they're college ready.
SAT, ACT and CLT may sound like some kind of alphabet soup. But since your student is preparing to go to college, you need to know why they're important.
You may think all your student's learning will take place in the classroom, but outside-the-classroom learning options can improve their academic experience (and grades) too.
It's important for students to be mindful of their safety while at college. We'll share how they can stay safe.
College can be tough, but your student is tougher. Especially when they use all the academic resources at their disposal.