Get answers to your questions about going to college
Is your student going to college soon? It's a big step, right? There can be a lot to learn, but no worries. We'll help you sort it all out and get things done on time! We're delighted you're here and happy to help.
Is studying abroad just for college students? It doesn't have to be! Discover what it is to study abroad for high school and college students.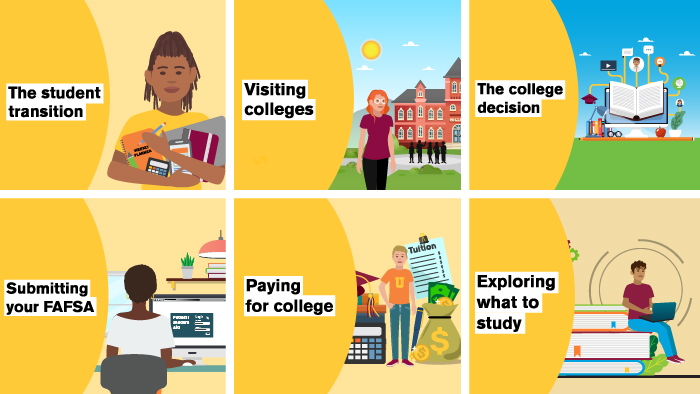 Browse the College Bound video library
Learn all the ins and outs of getting ready for college with these short, informational videos. You'll find clear answers to many of your family's most pressing college questions, and tools and instructions to help your student navigate the complexities of preparing for college.
Creating a community in college is a beneficial way for your student to have a more fulfilling college experience. Discover how they can build or find the perfect community.
Your student has to write a statement of purpose for the college they're applying to. Where do they begin?
There are many ways your student can make money for college, such as scholarships, part-time jobs, freelance opportunities and more. See how your student can make that money.
College will be a new experience for your student, but they shouldn't feel unprepared. We're sharing how they can take charge of their college adventure.
There are many different ways to study. We're sharing some of our best tips so your student can make the most of their study sessions.
There are lots of steps when applying to college. And if your student is from a country outside the U.S., they'll have even more. We're here to break the steps down for you.