Next steps for admitted international students
Congratulations on your admission to ASU.

It is our pleasure to welcome you.
We are excited that you have chosen to pursue your degree at Arizona State University.
This is your guide you through the important steps you need to take to enroll for classes and prepare for the beginning of your academic year. Here you will find information about the visa application process, preparing for travel, arriving at ASU, registering for courses and much more.
Be sure to check My ASU regularly and complete any pending items under your Priority Tasks. We wish you a successful academic year and look forward to seeing you in Arizona soon.
1. Request your I-20 and apply for your visa
International students who wish to pursue their studies at ASU must obtain an F-1 or J-1 visa. To obtain a visa, students must first receive a SEVIS number and I-20 document from ASU. Learn more about the SEVIS and student visa steps.
Learn more about requesting your I-20
Once you have received your SEVIS and I-20 from ASU, make sure to complete the steps on the student visa checklist.
2. Activate your ASU ID and email account
After you applied to ASU, you were issued an ASURITE UserID in an email. This ID gives you access to ASU's online student services through My ASU. You must activate your ASURITE UserID online.
While activating your ASURITE UserID you can set up your ASU (@asu.edu) email account. This email is the official address to which the university sends email communications and is recorded in ASU's electronic directories.
If you do not have an ASURITE UserID and activation code, call 480-965-2437. If you need help with the activation process, contact the University Technology Office Help Desk at 1-855-278-5080.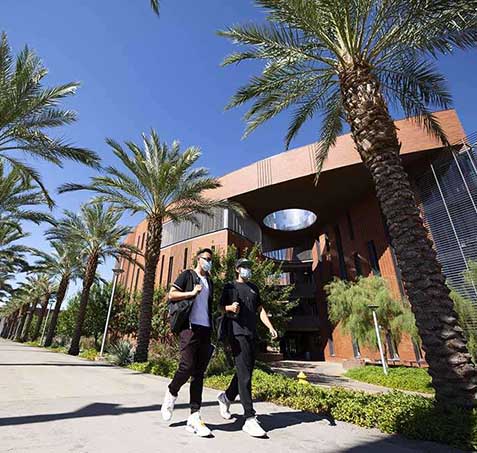 3. Complete tasks in My ASU
Enrollment deposit (freshmen only)
Pay your enrollment deposit on My ASU to confirm you will attend.
MMR immunization
All students born after Jan. 1, 1957, are required to meet the following MMR immunization requirement before class registration. You can upload required documentation in your ASU My Health Portal.
The MMR vaccine is available for a fee at any of ASU's Health Services locations.
Math placement test (undergraduates only)
Students who are required to take the test will see the item "Take Math Placement Test" under Priority Tasks in My ASU.
Complete pre-orientation on My ASU
All international students are encouraged to complete the digital orientation available on My ASU prior to arrival to ASU.
If you are a transfer student bringing college credit with you, Admission Services initially awards transfer credit. However, your academic advisor in your major will determine how the credit applies to your degree. Call 480-965-2437 or email asuinternational@asu.edu if you have any questions.
5. Review housing and dining options
To apply to live on campus, please visit My ASU to choose your housing preferences. If you intend to live elsewhere, please notify the university by choosing that option on your Priority Tasks in My ASU. If you are a transfer or graduate student not planning to live on campus and need assistance with your housing transition, please contact Off Campus Housing.
ASU offers several meal plan options for students living on and off campus. Review meal plan options and visit housing.asu.edu for information on housing and dining options.
6. Schedule academic advising appointment and register for classes
Register for classes by going to the Academic Support Team box in My ASU and clicking on Academic Advising to schedule an advising appointment.
All freshman students are required to pay the enrollment deposit prior to registering for courses. Learn more
Transfer students in Ira A. Fulton Schools of Engineering and W. P. Carey School of Business will receive additional information by email from their college about the next steps to take to receive advising and register for classes.
If you are a graduate student, you will need to contact your academic department about steps to take to select and register for courses. You can view your academic unit contact information in the My Programs and Degree Progress box in My ASU. Note that you may have holds on your enrollment that you need to complete before you can register for classes.
Fall admits: Class registration typically becomes available mid-spring.
Spring admits: Class registration typically becomes available mid-October. Take some time now to review and complete any outstanding holds you may have under Priority Tasks in My ASU so you can be ready for registration.
7. Learn about tuition and fees
Tuition charges will be billed to your student account and may be viewed online through My ASU. By registering for classes you agree to pay all applicable tuition and registration fees. If you decide not to attend, you must completely withdraw from all classes before the semester begins.
If tuition is not paid by the applicable due date, you will automatically be enrolled in the tuition installment plan and charged a nonrefundable enrollment fee. Visit the Tuition and Billing website for more information.
You can access online billing through My ASU. Click on My Finances, then Make a Payment. Students are responsible for reviewing their ASU email account for notification of billing statements and reviewing their student account on My ASU for current information. Billing statements are not mailed to your home.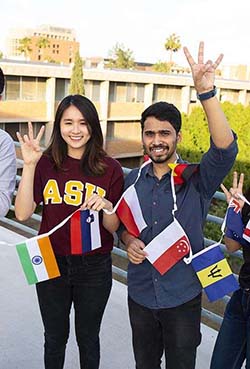 8. Make travel arrangements
Countdown to ASU
As you prepare to attend Arizona State University, you might have some questions. Use this Countdown to ASU website as your go-to resource for everything you need to know about getting ready for college, and register for some helpful events to get all your questions answered.
Countdown to ASU
Need help?
We're here for you.
ASU admission team members can answer your questions and guide you through each step of your enrollment process between now and the time you get started. Connect and get to know yours. We're here for you.
Enrollment dates
Enrolling for spring 2021
(Classes begin Jan. 11, 2021)
Enrolling for fall 2021
(Classes begin Aug. 19, 2021)
---
Entering the U.S. and arriving in Phoenix
Most students will arrive in the U.S. at an airport other than Phoenix Sky Harbor (PHX). If you will arrive at PHX on an international flight, please see the international information on the Sky Harbor website.
Regardless of your Port of Entry (POE), at the first entry point into the U.S. as a legal nonimmigrant, you will be required to complete the items below. For more explanation of what to expect at a POE, visit the U.S. Immigration and Customs website.
Visa/I-20
At your point of entry, U.S. Customs and Border Protection will check your documents. This is where you will need to present your passport, visa and I-20 to the Customs and Border Protection officer.
The passport must be stamped by the port of entry official notating F-1 D/S or J-1 D/S (Duration of Status), date, and location of arrival in the U.S. If this is incomplete or the stamped date or visa classification is incorrect, please bring it to the attention of the port of entry official so they can make the correct annotation. Errors noticed after you leave the airport should be brought to the attention of the International Students and Scholars Center.
While a CBP officer inspects your immigration documents, you may be asked some general questions. Don't get agitated or nervous; it's just a routine procedure. Always answer clearly, honestly and politely. If there is a problem, suggest that they contact the International Students and Scholars Center at 480-727-4776. We are open during office hours, Monday through Friday, from 8 a.m. to 5 p.m.
There is no cause for alarm if you are asked to step into a side room. They may need to ask you some questions or verify some information. You are allowed to ask the officer what the issue is — just do so respectfully.
Customs checkpoint
After checking your documents and clearing you to enter the U.S., you will proceed to the baggage claim area to collect your luggage. You will then need to enter a line with U.S. Customs (or Agricultural Dept.) officials where they may ask about the contents of your bags or ask to open them. Students should follow their instructions and answer their questions honestly and politely. Please bear in mind that the penalty for carrying contraband is very high and may result in deportation.
After you collect your luggage, you will go through the customs checkpoint. This is where you turn in the form you were given on the airplane. On this form, you must declare if you have funds exceeding $10,000 (in any currency) and any items that need to be declared. Please visit cbp.gov for detailed information on what you are allowed to bring and what items you need to declare.
List of documents for new students to travel with:
Valid passport (must be valid for at least six months past the date of intended arrival in the U.S.)
Valid I-20 (Initial or Transfer-Pending)
Valid F-1 or J-1 visa (Canadians are exempt)
ASU Admissions Letter
Financial Guarantee documents
SEVIS I-901 Fee Payment Receipt
ASU's 2 letters of support (sent to incoming students by email)
Documentation of full vaccination for COVID-19
In addition to asking for these documents, the Customs and Border Protection Officer may ask the following questions to determine several pieces of information:
The purpose of your visit to the United States
How long you plan to visit
Where you will be staying
If you have the means to support yourself financially in the United States
If the documents you are presenting are compatible with the purpose and intent of your visit
Airport transportation and connecting flights
Once you have cleared the customs checkpoint, you will exit into the international arrivals area of the airport. If you need to catch a connecting flight (to get to PHX), you will need to take your bags with you to the proper terminal or check-in counter for your domestic flight. At many airports, you will need to take a free inter-terminal shuttle to get to the proper location. We highly recommend visiting the website of your international destination airport to become familiar with what you will need to do.
Additionally, each U.S. airline has separate policies regarding charges for checked luggage and weight requirements. We strongly recommend researching your airline's domestic flight baggage policies so that you know if you will incur charges at check-in for your domestic flight. Finally, the U.S. Transportation Security Administration (TSA) has detailed information about what you can carry on and things to consider when traveling within the U.S.
Useful resources for international students