Transferring credits to ASU
How credits transfer to ASU
When you transfer to ASU from another college or university, the following general standards for transfer credits apply. You can use ASU transfer tools to learn how credits will transfer and begin creating your roadmap to graduation.
Types of Transfer Credits not accepted by ASU:
courses in which you earned below "C-" as your final grade
credit awarded by postsecondary schools in the United States that lack candidate status or are not accredited by a regional accrediting association
credit awarded by postsecondary schools for life experience
credit awarded by postsecondary schools for courses taken at noncollegiate institutions (e.g., governmental agencies, corporations, industrial firms, etc.)
credit awarded by postsecondary schools for noncredit courses, workshops and seminars offered by other postsecondary schools as part of continuing education programs
Students wishing to transfer to ASU and who feel they have been unjustly denied credit for transfer courses may appeal to the appropriate committee.
Transfer Guide
ASU's Transfer Guide is a helpful online tool to assist you in your transfer planning process. Manage your Transfer Pathways, requested course evaluations, saved courses searches, saved exam searches and more.
View the Transfer Guide
Military credits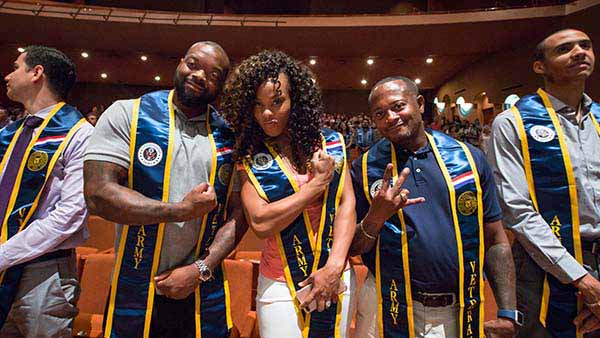 ASU is proud to welcome transfer student veterans of the Army, Navy, Air Force, Marines, Coast Guard and National Guard to our undergraduate student community.
Evaluation of military transcripts
ASU uses the American Council on Education's Guide to the Evaluation of Educational Experiences in the Armed Services to assess how to transfer military credits to ASU. In general, a military course must be similar to an ASU undergraduate course to transfer to ASU.
Military credits that transfer to ASU through educational experiences in the armed services are not applicable toward completing ASU's general studies requirements for graduation, but do count for total credits toward completion. No transfer credit is awarded for vocational certificate category ACE recommendations.
The JST is reviewed for potential transfer credit in accordance with VA guidelines and Arizona statutes related to awarding credit for military training and education. Credits are evaluated at the time of JST submission to ASU. It is recommended the JST be sent to ASU upon application to ensure timely processing and evaluation.
Military Transcripts Accepted by ASU
ASU accepts the following military transcripts to transfer credits:
JST (Joint Services Transcript)
The CCAF is a regionally accredited community college. This transcript must be submitted as part of a student veteran's admission package for anyone who served in the United States Air Force, Air Force Reserve or Air Guard.
Veterans exception
By Arizona statute, no failing grades received by a veteran at an Arizona university or community college before military service may be considered when determining admissibility. This exception may be used only one time and applies only to veterans who:
are honorably discharged
have served in the armed forces of the United States for a minimum of two years
have previously enrolled at a university or community college in Arizona
Military service records must be submitted, including form DD 214.
Air University's Associate to Baccalaureate Cooperative
Arizona State University is working in collaboration with Air University to recognize the military education of incoming Air Force personnel. Learn more about this exclusive academic partnership.
Air University
Credit by exam
You may earn no more than 60 hours of credit by exam for any degree program, including ASU comprehensive and proficiency exams.
ASU's credit by exam policy
Frequently asked questions about transferring college credits