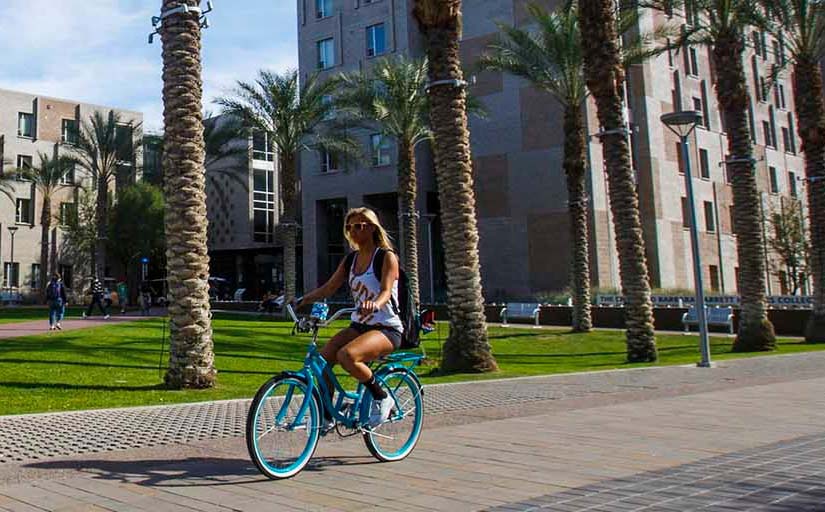 Transfer to ASU from a college or university
How does MyPath2ASU® work?
MyPath2ASU® is ASU's transfer admission guarantee. We are dedicated to providing exceptional transfer resources and robust academic pathways to our students. MyPath2ASU® ensures that the courses you complete at your transfer institution align with ASU's requirements. Our transfer planning tool identifies the courses that directly apply to your ASU major, saving you time and money by ensuring a smooth credit transfer process.
As a member of the Navajo Nation, Callie Edgewater witnessed firsthand the hardships her people faced, particularly the lack of access to clean water. This profound challenge ignited her passion for environmental engineering, inspiring her to pursue a degree in this field beginning at Central Arizona College before transferring to ASU. Discover how the personalized guidance and support of MyPath2ASU® empowered Callie's journey.
The MyPath2ASU® transfer process
Pick your ASU major.

Sign up for MyPath2ASU®.

Track progress towards transfer.
Apply to transfer to ASU.

Become a Sun Devil.
You're one step closer to achieving your academic goals.
The benefits of transferring with MyPath2ASU®
Learn more by attending an ASU virtual event
Fun Friday MyPath2ASU
®
Transfer Session
ASU's Transfer Student Ambassadors, current ASU students who transferred from community colleges to ASU, will share their transfer experiences and provide tips for a successful transfer. They will also demonstrate the steps to sign up for MyPath2ASU®, ASU's transfer pathway program, and explain the benefits of being on a pathway.
Virtual visit options
Explore the many live-hosted sessions with ASU enrollment and academic team members and current students who can answer your questions. Navigate the MyPath2ASU® transfer experience and learn more about ASU's admission and enrollment processes.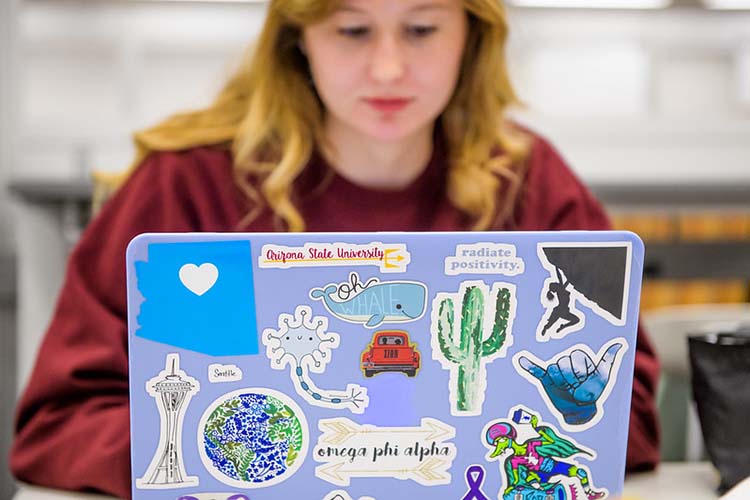 Your next steps to applying to ASU
As you're completing your community college coursework, if you have questions about the admission process, requirements or transcripts, contact your transfer coordinator and they will be happy to help. 
Or if you're ready to apply to ASU, you can begin your application for admission up to a year before you are ready to transfer. 
How and when to apply Contact a transfer coordinator
If you signed a TAG agreement prior to summer 2017, find your degree program outline.
College and university alliances
ASU strives to serve students and communities across Arizona and the country. Working in partnership with community colleges, local communities and other educational institutions, ASU specialty alliances offer high-demand programs for students in various modalities to allow customizable ways to finish their bachelor's degree.
Admission requirements
General university admission is guaranteed upon successful completion of the following conditions: 1) Completion of an associate degree from a regionally accredited higher education institution with a minimum 2.00 cumulative GPA (Arizona residents) or 2.50 cumulative GPA (nonresidents) or 2) completion of 24 or more transferable semester credits post-high school with a minimum cumulative transfer GPA of 2.50 (4.00="A") and verification of high school graduation or the equivalent. NOTE: Some ASU colleges and schools have additional or higher requirements for admission into their majors. Students will also need to submit an Arizona State University admission application, including an application fee and other required documents, such as official college/university transcripts. MyPath2ASU® pathway programs are based on a minimum of 24 transfer credit hours; students with fewer than 24 credit transfer credit hours will need to meet the appropriate admission requirements. International students will need to meet international admission requirements.
Frequently asked questions about transfer pathway programs
What is MyPath2ASU® and how does it affect my MAPP, TAG or GPA agreement?
MyPath2ASU® is a new set of customized tools to help students transfer from community college to ASU. It makes transferring colleges seamless by allowing students to plan their path to transfer into their major at ASU by taking the right classes. Your MAPP, TAG or GPA agreement has been updated to a MyPath2ASU®. No changes are necessary.
When should I sign up for MyPath2ASU® and how long do I have to complete it?
Students can sign up for MyPath2ASU
®
when they enroll in community college. Upon signing your MyPath2ASU
®
agreement, you have four academic years to complete a MyPath2ASU
®
.
Can I change my major after I sign up for MyPath2ASU®?
Yes, you can change your major.
If you are a student from Maricopa County Community College District you can update your pathway agreement by signing up for a new MAPP MyPath2ASU®. For all other students, you can change your pathway agreement by logging in to My Transfer Guide account and updating your current MyPath2ASU® agreement.