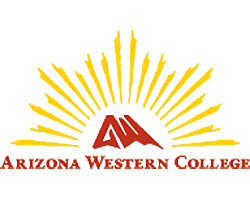 Earn your ASU degree at Arizona Western College
Earn a bachelor's degree from Arizona State University without leaving Yuma. ASU and Arizona Western College have established a partnership that allows you to complete your associate degree at AWC and then pursue your ASU bachelor's degree through classes delivered on the AWC campus. You can also take advantage of additional cost savings with a reduced ASU tuition rate.
Students must be (or previously have been) enrolled and completed credits at Arizona Western College to continue taking classes through the @Yuma location.
Available undergraduate programs at AWC
Earn a degree that will help prepare you for a career in law enforcement, probation, parole, corrections, private security, court personnel, legal offices or victim advocate agencies. This program introduces you to the fundamental foundations of criminal justice and criminology by preparing you to think critically, contribute to society and enhance public safety. Learn about the causes of crime, the role of criminal justice agencies in the control of crime and the consequences of crime. Study the sociological, psychological, biological and economical explanations for individual crime as well as the differences in crime over time and across neighborhoods, states and countries. Gain an understanding of the history, legal issues and current practices of crime control via police agencies, the court system, prisons, probation and parole.
See course descriptions and sample schedule.
For more information about this program, contact Jim Eustace at jeeustac@asu.edu.
This degree program is ideal for helping to advance your career in business, government, nonprofit, health care or service industries. Through this interdisciplinary program, you will gain valuable knowledge to become an organizational leader who is well versed in leadership styles, communication strategies, resource management, project management and emerging technologies. It is highly recommended that you complete the Arizona General Education Curriculum prior to applying to this program. Complete the course requirements as outlined in the TAG agreement and the AGEC requirements to transfer up to 75 credit hours from the community college. Then, you can complete this bachelor's degree with 45 ASU credits.
For more information, contact Gerry West at gerald.l.west@asu.edu.
Earn a dual certification to educate children: Mild-moderate disabilities special education in grades K–12 and elementary education for grades K–8. Develop the knowledge and skills to successfully teach elementary school students, as well as children requiring special education in any grade.
Prepare to be an educator for youth enrolled in grades 6—12. You'll develop a strong theoretical background and gain the requisite teaching knowledge and abilities to successfully teach middle or high school students. Student cohorts are at the AWC Yuma campus and Parker Learning Center
Note: Both education programs provide quality preparation through Mary Lou Fulton Teachers College Professional Pathways, our suite of internships and residencies that expose you to more ways of teaching and learning. You'll work with the support of ASU faculty members, helping you problem-solve while offering you as much support as possible. The result? School hiring managers tell us Teachers College graduates enter the education workforce with the poise and skills of second-year teachers.
For additional information, visit education.asu.edu/awc or contact Laura Corr, laura.corr@asu.edu or 928-317-6205.
*Up to 15 additional hours of lower-division general studies coursework can be completed prior to transferring to ASU. Transfer up to 75 community college credits toward this degree, with 45 credits to be completed at ASU. If lower-division general studies requirements are not complete prior to transferring, the courses can be taken at Arizona Western College or ASU. All degree requirements must be met prior to graduation from ASU.